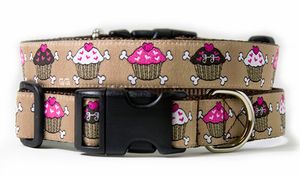 Collar: Cupcakes Galore!
These fine ribbon collars are hand made in USA and backed with durable nylon webbing. Only the most durable, high quality nickel plated hardware is then added. Machine wash and line dry. Click fasteners hold strong and will not release when tugged, even forcefully.

Don't forget to add the leash for the complete ensemble!